Choosing a web hosting service for your website can be a challenging task. With so many options available, it is difficult to determine which one will offer you the best solution for your needs while being within the budget that you have set aside.
While choosing the right type of hosting, it is necessary to understand how this site is managed, how fast its loading is, and how secure it is. The main goal for any type of web host is to make sure that your site has the needed support and resources to handle its traffic and workload.
The hosting server may or may not be a natural asset, and it depends on the hosting clarification and solution adopted by us as an owner.
In order to make sure that every dollar counts, let's take a look at our options in detail and compare them side by side.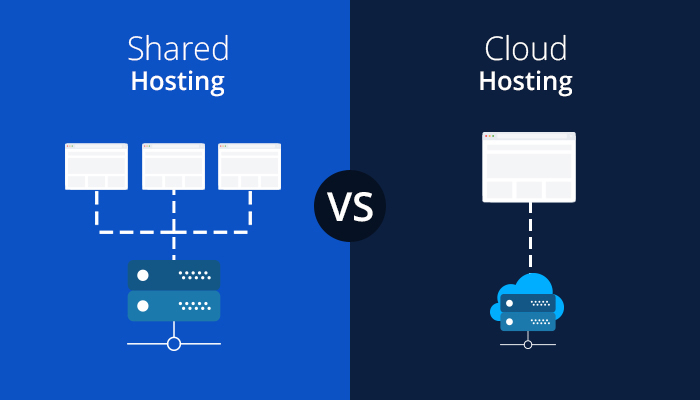 What is Shared Hosting?
As the name infers, shared hosting is a hosting solution in which various websites share the same server sources. The most reasonable and moderate hosting solution, shared hosting, is proper and fit for small blogging and showcasing websites with good traffic. In shared hosting, the owner gives you complete control over the system and demands attention to all the features linked with the hosting system like updates, software installation, security and maintenance, backups, etc.
If your company requires particular modules, unique languages, or a distinct MySQL database, then, in that case, shared hosting is not a suitable option.
Benefits Of Shared Web Hosting
The benefits of using shared hosting are explained below.
Pricing Structure
Generally, Shared Hosting is cheap and easy to buy because its costs are some dollars which are easy to pay. The rates go up when the standard package rate of the website starts after the end of the promotional period. But still, at that time, shared hosting will be considered the cheapest hosting, but it requires fewer features and does cover the essentials for fixing and maintaining a small website.
Accessibility
The cheap and secure availability of the shared hosting makes it feasible for anyone to open an account, sign a record and start establishing up a site.
This type of hosting is preferred by most web-hosting providers, although it may not be available from the hosting brokers that are restricted to serve particular niches and website kinds.
Based on the level of expertise, users can use the built-in tools of the host to build their site and publish it to the hosting account.
Also, users can unite with the host's site-building, web hosting management dashboard, and content administration options.
What is Cloud Hosting?
Cloud hosting is moderately related to VPS hosting. Still, the foremost variation is that while VPS is based on natural servers, cloud hosting is based on numerous interconnected servers scattered over a wide geographical range. This empowers you to advertise your data across these widely spread virtual servers and assist and help your customers more precisely and efficiently.
Where the VPS has restrictions on data transfers, cloud hosting does not restrict its users. Cloud hosting is also analyzed as the more improved and recent solution to web hosting applications and online businesses and gives effectiveness and advantages. Therefore, it is more reliable and suitable for most utmost businesses.
Benefits Of Cloud Hosting Services
One of the most significant companies like Google and Amazon is based on cloud systems, with many benefits. The benefits are given below.
Pricing Structure
In other hosting classes, you spend a monthly rate even if you are not utilizing the resources. This is where cloud hosting is the best, where you pay for what you use.
So, if you are waiting for a post to get viral, or your website is receiving a strangely large amount of traffic, then you are in no need to promote your package ultimately. You have to increase your sources during the traffic and decrease it when the traffic level returns to usual.
Instead of paying a sturdy or massive hosting fee, use cloud hosting so that your cost should be based on the total amount of server sources you use. Our Outfoxed hosting service is also priced accordingly.
Faster Speed and Performance
Many cloud servers can give you blazing wild speeds. Multiple servers can increase the capacity of your site without any effort and enables easier load balancing among reoccurring server environments, which can help put much less stress and pressure on the resources of a single server.
Generally, the server hardware foundation will also affect the speed of your website. So you must look for a cloud host comprising multiple caching layers, low-density servers, and premium server hardware. But with Outfoxed digital, there won't be issues even if you host multiple websites.
Cloud Hosting Speed Test Results

As argued above, various websites give the same server and resources in shared hosting, which is perfect for projects having little to no traffic and does not require many resources.
Difference Between Shared Hosting and Cloud Hosting
The disk space for unique websites is limited, and one server is usually adjusted to vastly complex websites. When it comes to price, shared hosting is the cheapest. But at the moment, the lower cost will result in limited security and performance.
On the other hand, Cloud hosting servers give you a safe and scalable solution for your website. Also, you are independent in choosing the variety of hosting packages and dedicated servers for your WordPress website.
Reasonably Cloud hosting is the best decision for businesses with high ranges of traffic. In case you experience sudden spikes in traffic due to any viral content or a peaking product, the review of your website won't take a hit because of the usage and availability of high sources. Also, unlike dedicated server, cloud services are quite reliable than a shared server.
Here are some of the points we should notice to choose one from these two hostings.
1. Performance
In shared hosting, performance might take a crash. If any website on the server utilizes the whole usable bandwidth, the other websites will not work, and it may result in the crashing of your website. The number of websites on the server may affect the performance, and it varies a lot depending on the resources.
On the other hand, while using Cloud Hosting, you can estimate how many supplies you have remaining, and you can increase or decrease your server depending on your needs.
2. Security
Protection on shared hosting may be dull and unsafe because if an intruder gets a path to a server, all websites on the server are exposed and remain endangered to the attack. So, while using shared hosting, you should watch security notifications to prevent your loss.
With cloud hosting, security is less of a matter. While no website can be a hundred percent perfect and safe, cloud hosting gives its customer a class of protection that shared hosting cannot provide and afford. Your account is secured with Bot protection, SSL certificate, login security so that your work may not remain in danger.
3. Hardware And Network Requirements
With any shared hosting server environment, each user gets virtual hardware resources such as CPU cycles, disk space and memory on a single physical machine depending on how much they are paying for these services.
Eventually, this means that one or many persons' websites will slow down depending on the server load. On cloud hosting with scalable resources, you can pay only for what you use and so there is no chance of your website slowing down due to congestion at peak hours.
4. Scalability
This is another major headache with shared web hosting environments as it's often not easy to scale up your server hardware resources when they become overloaded even though most services offer auto-scaling. Most shared infrastructure will need an upgrade which could take 10 minutes or more for adding more RAM or hard disks, etc., during urgent demands for growth in site traffic. Cloud hosting gives the flexibility of scaling up any time without service interruption making it more attractive to customers.
Consider Outfoxed Cloud Hosting Solution
Outfoxed hosting provider is one of the best cloud hosting packages in the market today. We are dedicated to providing our clients with excellent service and performance at affordable prices. If you're looking for a reputable host that can provide you with top-notch services, then look no further than Outfoxed!
Bringing It All Together
If you are weighing the pros and cons of cloud hosting vs shared hosting packages, we hope this article has been helpful. For smaller businesses, Outfoxed Cloud Hosting can offer an excellent solution that is reliable, scalable on-demand, and competitively priced with no hidden fees.
Our team of experts have years of experience creating reliable solutions to power up your website or application with no downtime. Get in touch today if you want more information about how our managed cloud hosting solutions could improve your site's performance and keep it secure from hackers or other threats to stability. We look forward to hearing from you!